Petroleum Industry Pump Repair
Case Study Summaries
Bingham Mainline Pump for Pipeline
Pacific FCC Bottoms Pump for Refinery
Ingersoll Rand Charge Pump for Refinery
Pacific Coker Jet Pump for Refinery
Ingersoll Rand Barrel Pump Chemical Processing
Byron Jackson Transfer Pumps for Refinery
Goulds Waterflood Injection Pump
The Hydro Difference
The Hydro Companies have provided a range of pump repair, engineering and support services to the Petroleum industry since 1969.
Click on any of the links to the left to learn more about our proven experience in improving the performance and reliability of your pumps.
"Repair facilities should always be evolving, striving for that next level of excellence by promoting free thinking and providing a safe work environment for their employees. This commitment to excellence has brought great success to Hydro; in 2009 we began designing and manufacturing impellers in days instead of months, we recently opened a 5000HP Test Lab in 2010, and we have new facilities being constructed around the globe. Hydro will continue to evolve and grow because we understand our customers' expectations of us and what our customers are trying to accomplish to be successful in their professional lives."
Theo Simpson, Vice President of HydroTex Sales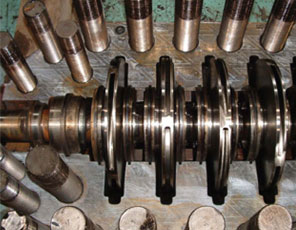 Bingham Mainline for Pipeline
Application: Mainline Pump for Pipeline
Pump Details: 3x4x12.5 Bingham MSD 14/13-Stage
Pump Type: Multi-Stage Horizontal Split Case
The intermittent dry running of this mainline pump caused inefficient operation and high maintenance costs for a major pipeline. After being pulled from service for failing to produce the required flow rate, the pump was sent to Hydro.
Hydro determined that the loss of pump performance was due to degradation of the carbon graphite stationary wear parts. When these pumps are operated without liquid, the carbon graphite material protects the rotating metal parts from galling, but the rubbing action causes excessive wear.
As an upgrade to the carbon graphite, Hydro replaced the stationary wear parts with a special composite material. The material selected enabled Hydro to reduce running clearances, lower vibration and improve pump flow.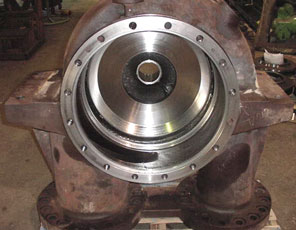 Pacific FCC Bottoms for Refinery
Application: FCC Bottoms Pump for Refinery
Pump Details: Pacific 8x23 HVC
Pump Type: Radial Split Case
After pulling and inspecting this pump, which was down due to low flow, it was determined that the old chrome case was not repairable. Since this pump operates in parallel with a sister pump to produce the desired flow, when one pump is down, production is greatly reduced and the plant loses revenue.
Because the lead-time on a new casing was 20 weeks, the refinery contacted Hydro for an alternate solution. Hydro reverse engineered the casing and worked with a foundry to manufacture a replacement casing in only 14 weeks.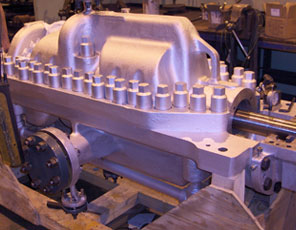 Ingersoll Rand Charge for Refinery
Application: Charge Pump for Refinery
Pump Details: Ingersoll Rand 4x11 DA 8-Stage
Pump Type: Multi-Stage Horizontal Split Case
A refinery's charge pump crashed as a result of a run dry event. The pump's case was severely distorted due to the heat generated during this event. The plant required an emergency turnaround to get the pump back on line as soon as possible.
To expedite delivery, the refinery supplied a spare rotor while Hydro was asked to focus on casing repairs. Responding to these emergency requirements, Hydro organized a 24/7 production schedule including a holiday weekend.
Hydro inspectors worked around the clock, first performing our comprehensive inspection, then weld repairing the casing to restore all the dimensions to required specifications.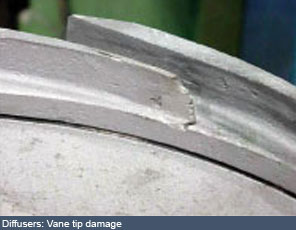 Pacific Coker Jet for Refinery
Application: Coker Jet for Refinery
Pump Details: Pacific 3" S-A-TB
Pump Type: Barrel
A refinery sent their problem pump to Hydro for repair. Hydro's thorough inspection revealed very serious problems and a comprehensive workscope was developed and approved by the refinery.
In addition to restoring the fits and tolerances of the rotor to their optimum specifications, Hydro also proposed several upgrades to improve the reliability and performance of the pump. These upgrades included re-establishing the centerline compatibility of the rotor, manufacturing a new, larger shaft for improved rotor stability, manufacturing new wear parts, using precision split rings, and investment cast impellers.
Once installed, the rebuilt pump exhibited very low vibration and produced the same performance at 4000 rpm as the pump in its previous condition at 4400 rpm. In addition to saving the refinery thousands of dollars in repair, downtime, and energy costs, Hydro has been informed by the refinery that it is now their "best running pump."
Ingersoll Rand Chemical Processing
Application: Chemical Processing
Pump Details: Ingersoll Rand 4x11 CA 8-Stage
Pump Type: Barrel
When a chemical plant expanded their production, they elected to source a surplus pump rather than purchasing a new pump. Delivery of a new pump would have taken six to eight months, but they wanted to be on line in just 44 days!
Only Hydro offered a credible solution to what was both a challenging engineering problem and an intensely demanding production schedule. After a thorough engineering review and inspection of the pump, Hydro shortened the barrel of the surplus pump and de-staged the pump from eight stages to five.
Hydro also offered upgrades to improve the pump's performance and reliability. Once the project was completed, Hydro tested the pump and provided a certified performance curve showing that the modifications and upgrades produced the specified head and flow of 740 gallons/minute at 1500 feet.
Byron Jackson Transfer for Refinery
Application: Internal Transfer Pumps for Refinery
Pump Details: Byron Jackson Model MVILD
Pump Type: Vertical In-line
A refinery was experiencing problems with their oil lubricated vertical in-line pumps (API type OH3). After running for two to four months, the pumps were losing flow and lubrication pressure, causing a rise in bearing temperature and resulting in abrupt catastrophic failure of the thrust bearing.
This failure also caused damage to the mechanical seal, pumping ring and impeller.
One of these pumps was sent to Hydro with a request to investigate the failures. Hydro's engineers realized that the pump's design, in dynamic condition, was creating a vacuum that had a siphon effect.
The modifications that Hydro implemented to prevent oil from being siphoned out of the sump were very simple and quite inexpensive. In 2007, engineers modified all five pumps, which are still running without any signs of problem. These modifications enabled the refinery to save $195,000 in first-year cost savings.
Goulds Waterflood Injection
for Oil Production
Application: Waterflood Injection for Oil Production
Pump Details: Goulds 3300 4x6 12-Stage
Pump Type: Multi-Stage Horizontal Split Case
When faced with a pump that has experienced repeated failure, Hydro examines the repair history of the pump, reviewing factors such as the application and operating conditions as well as the physical findings of our detailed inspection to determine the root cause of the problem.
Following a detailed inspection and analysis of this pump's history, Hydro recommended that the original casing materials and casing wear rings be upgraded to resist both corrosive and erosive attack.
The upgraded materials combined with Hydro's quality engineering and manufacturing resulted in a dramatic increase in MTBR for this pump. The oil producer was satisfied with the upgrades and sent seven additional pumps to Hydro for modification.