Case Study Summaries
Pacific Centrifugal Charge Pump
Union Control Rod Drive Pump
Goulds Component Cooling Water Pump
Ingersoll Rand Heater Drain Pump
Byron Jackson Reactor Feed Pump
Goulds Safety Injection Pump
Worthington Service Water Pump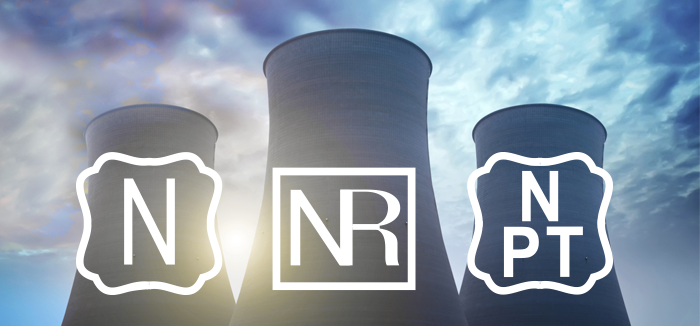 Our Experience is Your Advantage
Since 1969, Hydro, Inc. has offered a range of pump rebuilding and engineering services to the power generation industry. Recently, HydroAire's Madison facility in Chicago, IL, received its ASME N certification. HydroAire also holds the NPT and NR certificates and is a well-known service provider for safety related and ASME Code Pumps.
HydroAire's Quality Assurance Program complies with 10 CFR Part 50, Appendix B, and ASME Section III. The Program has been audited by the Nuclear Procurement Issues Committee (NUPIC). The audit has been used by several NUPIC members to qualify HydroAire as an "Approved" Vendor.
Please select any of the pump types to the left to learn about some of HydroAire's recent pump project successes.
"We've built our reputation on quality. The fact that we have grown into the largest independent pump rebuilder is a testament to our engineering and design capability. For pump users who have been disappointed by OEM and third-party suppliers, Hydro's Nuclear Service Center offers an alternative for reliable pump aftermarket service."
Adam Jung, Quality Assurance, HydroAire Services, Inc.
---
ITT Goulds Pumps and HydroAire have joined forces–creating a powerhouse for pump reliability.
HydroAire is now the exclusive licensee for manufacturing ITT Goulds pumps and replacement parts, providing the nuclear power industry with superior ASME code and safety related pumps, parts and aftermarket services.
Pacific Centrifugal Charge
Application: Centrifugal Charging Pump
Pump Details: 2.5" Pacific RL IJ 11-Stage
Pump Type: Barrel
In 2006, HydroAire was asked by a major nuclear utility to manufacture a new casing and discharge head for a 2.5" RL IJ centrifugal charging pump. The pump element installed in the new casing had been previously built by HydroAire and kept in storage.
HydroAire's design improvements include modified hydraulic design to meet a much more narrow performance band, an improved shaft design to reduce stress concentration, optimized A & B gap to eliminate axial shuttling and vane passing vibration, and interference fit for covers and impellers to improve rotor stability and balance, which further improves stator rigidity and alignment.
HydroAire has had a long-lasting positive relationship with this nuclear power plant. When HydroAire was finished with this pump, the plant was so pleased with our work that they placed additional orders.
HydroAire has manufactured five new RL IJ centrifugal charging pump casings and upgraded rotors for this utility, having delivered one in 2007, one in 2008, one in 2009, and the last two were shipped in 2010.
Nuclear Certifications held by HydroAire's Madison Facility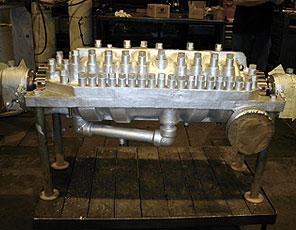 Union Control Rod Drive
Application: Control Rod Drive
Pump Details: Union 2x3 MNB 10-Stage
Pump Type: Multi-Stage Horizontal Split Case
Many control rod drive pumps exhibit high vibration, premature opening of wear components, and accelerated erosion of the casing. By applying our stringent repair standards and practices, Hydro has been able to significantly improve pump performance so pump efficiency can be maintained over a longer period of time.
Hydro's upgrade package for control rod drive pumps includes ensuring concentricities and perpendicularity within 0.0015", performing rotor centralization, balancing to 1 W/N, and upgrading the casing to withstand fluid velocities without erosion.
Nuclear Certifications held by HydroAire's Madison Facility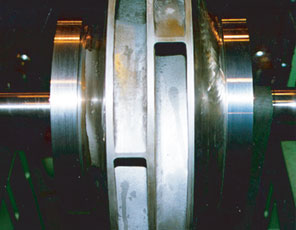 Goulds Component Cooling Water
Application: Component Cooling Water
Pump Details: Goulds 10x12x17 Model 3405 1-Stage
Pump Type: Single-Stage Horizontal Split Case
When a nuclear power plant experienced repeated problems with their component cooling water pump, including the repeated galling of the impeller wear components, they asked Hydro to evaluate the pump and make recommendations. The pump exhibited excessive vibration and required frequent repair - once every 36 months.
After an engineering evaluation, Hydro proposed several modifications, including upgraded metallurgy to prevent galling as well as a much more stringent balance criteria - 1 W/N. The first Hydro impeller was installed and tested with excellent results, having delivered more flow and head with a reduction in motor amps. The station purchased six additional impellers and all are working fine. The first pump has run in excess of 10 years with no problems.
The practice of just replacing parts can mean missed opportunities for improving a pump's reliability and performance. Engineering review and analysis is an intrinsic part of Hydro's reverse engineering process. Hydro will not just replace the existing part, but will recommend upgrades to extend pump life.
Nuclear Certifications held by HydroAire's Madison Facility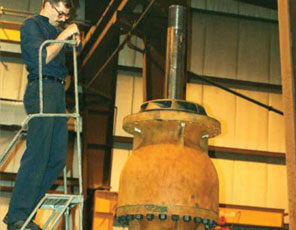 Ingersoll Rand Heater Drain
Application: Heater Drain
Pump Details: Ingersoll Rand APKD 14-Stage
Pump Type: Multi-Stage Vertical
Vertical pumps, like this Ingersoll Rand heater drain pump, are known for having excessive interstage clearances. As a result, concentricity from the top to the bottom of the pump can be lost. Lack of concentricity accelerates wear to the bearings and wear components, which in turn contributes to increased vibration as rotor stability is lost across the wear components.
This vertical pump had been experiencing excessive vibration and required maintenance every 18 months. Hydro utilized our specialized repair techniques to restore all fits, faces and bores to re-establish concentricity, cylindricity and perpendicularity. Once Hydro upgraded the pump, there was a 46% reduction in vibration levels. Furthermore, the pump's mean-time-between-repair was significantly extended to a projected 6-year cycle.
Nuclear Certifications held by HydroAire's Madison Facility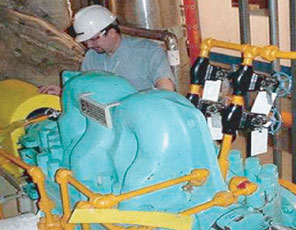 Byron Jackson Reactor Feed
Application: Reactor Feed
Pump Details: Byron Jackson 10x12x16 DVMX
Pump Type: Multi-Stage Horizontal Split Case
Hydro provided turnkey services for a nuclear power plant during a 10-day outage. A key to the success of this project was pre-planning and close communication with personnel at the station.
Throughout the project, Hydro provided daily reports to station personnel. Hydro's technical field advisors documented crucial data such as running clearances, axial thrust and lift. Hydro also provided reports on tasks completed in relation to their scheduled dates to ensure that critical time lines were met.
As a result of the careful planning, the job was completed three days earlier than projected and Hydro was awarded additional turnkey projects by this utility.
Nuclear Certifications held by HydroAire's Madison Facility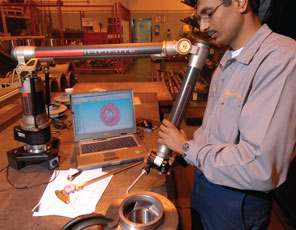 Goulds Safety Injection
Application: Safety Injection in Safe Shut Down Service
Pump Details: Goulds 3x6x9 3300 8-Stage
Pump Type: Multi-Stage Horizontal Split Case
A safety injection pump failed after experiencing a "dry run" event. Air got into the pump, severely damaging the impeller and other critical parts. When a spare OEM rotor was installed, performance was unacceptable upon startup. Hydro's challenge was to correct the spare OEM impellers to meet the plant's hydraulic performance requirements. To avoid derating, the plant needed a replacement rotor within a critical 2-week time frame.
After the failed rotor was decontaminated, Hydro reverse engineered the hydraulic configuration to obtain the original impeller geometry and underfiling data. The underfiling data was validated using our in-house engineering software and then used in conjunction with computational fluid dynamics software to confirm that Hydro's proposed modifications to the spare OEM impellers would in fact meet the required performance criteria.
With a 2-week turnaround, Hydro delivered a rebuilt rotor with engineered upgrades that would increase pump performance and improve reliability. Upon start-up, the pump performed at 1288lbs. pressure – 8lbs. better than the original rotor and 88lbs. above the minimum allowance!
Nuclear Certifications held by HydroAire's Madison Facility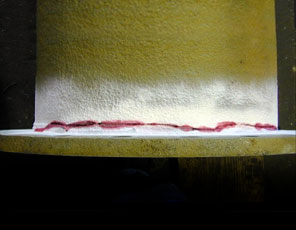 Worthington Service Water
Application: Service Water
Pump Details: Worthington 16QL 20
Pump Type: Multi-Stage Vertical
When Hydro received this service water pump from a power plant, all the components, including the column pipe, inner tubes, casing and suction bells, were sandblasted and cleaned so that a thorough inspection could be performed.
After cleaning, these components were subjected to a non-destructive examination and liquid dye penetrant check. This process revealed some serious indications in the form of cracks near the flanges. These cracks were identified in three of the four pipes and went through the wall thickness. They were sufficiently long enough to be potentially catastrophic if left undetected and unrepaired. The cracks were weld repaired and machined to the proper dimensions and contour.
Hydro's dimensional inspection also showed that the alignment fits between components were loose and out of round and that flange faces were not parallel to each other. Hydro repaired these alignment fits and machined the flange faces to restore concentricity and perpendicularity to within 0.002". Hydro's comprehensive inspection enabled the plant to avoid a potentially catastrophic failure and all of the costs associated with such an unplanned outage.
Nuclear Certifications held by HydroAire's Madison Facility