General Industry Pump Repair
Case Study Summaries
Amusement Park Pump
Fire Suppression Pump
Textile Manufacturing Pump
Food Processing Pump
Service-Minded, Solution-Driven.
Founded in 1969, Hydro, Inc. is the largest independent pump rebuilder in North America. No matter what industry you're in, our clear focus is to provide all pump users with quality pump rebuilding and engineering support.
Engineering is the foundation of our solution based business philosophy. Click on any of the links to the left to learn more about our creative solutions that have helped pump users meet their needs.
"In the service business, every day is a new challenge. I work with a great team. Most of the fellows on the shop floor have worked for Evans Hydro over 15 years and they care about doing the job right. As service coordinator, this makes my job easy because I know we can deliver a quality job – and complete it on time."
Kim Dixon, Customer Support
Evans Hydro, Inc.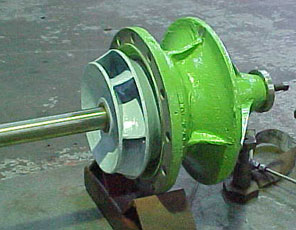 Amusement Park Pump
Application: Water Park Ride
Pump Details: Sourced pump parts
Pump Type: Multi-stage Vertical
A well known amusement park had a problem when they discovered the OEM from whom they had ordered three new pumps for one of their water park rides could not deliver the units in time for the grand opening. So they called Hydro to perform a miracle.
With only one week to provide a solution, Hydro employees quickly located bowl assemblies, discharge heads, and motors needed to build the pumps that could be used to run this amusement park attraction. Hydro manufactured the other parts needed to complete the job, including collets, shafts, couplings, and column pipes.
Due to Hydro's commitment to get the job done, the assembly and coating were completed and delivered on time for the grand opening.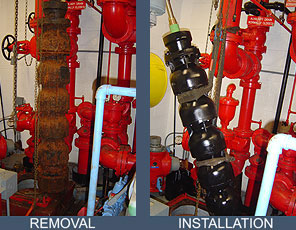 Fire Suppression Pump
Application: Fire Suppression for Courtyard Building
Pump Details: Fairbanks Morse Model 12F 10-Stage
Pump Type: Multi-stage Vertical
With years of experience and proper tooling, Hydro has become very efficient in the removal, rebuilding and reinstallation of vertical fire pumps.
Recently, a prominent courtyard building faced a troublesome situation when the vertical fire pump failed its Regulation 4 test. To complicate matters, the building was in the process of changing ownership and needed to have the rebuilt pump installed before the sale was finalized. This left the building with seven working days to have the complete turnkey job finished.
Although the building engineer thought the time was too short for such a large project, Hydro was able to complete the job in the required time.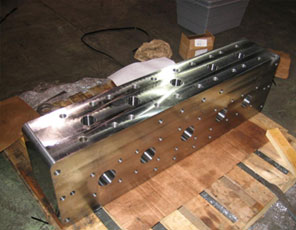 Textile Manufacturing Pump
Application: High-Pressure Injection
Pump Details: Ingersoll Rand 2.5x5 HS 5-Stage
Pump Type: Horizontally-mounted reciprocating pump
A textile manufacturing company brought a high-pressure injection reciprocating pump to Hydro for repair. The pump's original barrel design had a stainless steel casing, but the walls had worn thin. The pump was in a high-pressure application and experienced typical reciprocating pump pulsations, causing cracking and leaks in the casing.
Hydro upgraded the barrel design with thicker wall sections and fully machined passageways to significantly improve resistance to cracking and leakage.
The repair of this pump was so successful that the customer placed orders for 8 additional barrels.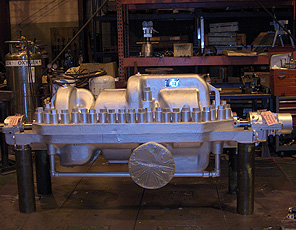 Food Processing Pump
Application: Boiler Feed used in Food Processing
Pump Details: Ingersoll Rand 6x13 DAD 7-Stage
Pump Type: Multi-stage Horizontal Split Case
Upon inspection of this failed boiler feed pump, Hydro discovered multiple problems caused from previous low quality repairs. Not only did the first stage impeller and impeller rings have incorrect hardness, but the first stage impeller was so severely damaged by cavitation, Hydro deemed it unrepairable.
Hydro manufactured a new first stage impeller from a more durable stainless steel and ground out the cracks on the other impellers, stages two through seven. Extensive damage was also found at the thrust collar nut thread area, so Hydro manufactured a new shaft utilizing proper metallurgy. To adjust the bore diameters, which were egg-shaped and tapered, Hydro machined them to proper dimensions.
Hydro performed magnetic particle inspections to ensure the high quality weld repair of the impellers. In addition, a solvent removable liquid penetrant inspection was performed after the impellers were hard chrome plated. The impellers were individually balanced to 1 W/N and then the assembled rotor was balanced to 1 W/N.
The pump was recently installed at the food processing plant and has been running well. Hydro's stringent repair practices will provide increased MTBR for this pump in addition to reduced repair costs for the plant.