Publisher:
Pumps & Systems
Date Published:
October, 2008
Valero-Wilmington, a midsize refinery (135-kb/d) located in Los Angeles, Calif., was experiencing problems with oil lubricated vertical in-line pumps (API type OH3). Though Valero-Wilmington uses the vertical in-line pumps for multiple applications, several are used as internal transfer pipeline pumps that operate within the refinery.
Problem
The Byron Jackson pumps, model MVILD, were not equipped with any type of instrumentation, and since most of the pumps are located in remote areas, daily observation and monitoring were not possible. After running for two to four months, the pumps were losing flow and lubrication pressure, causing a rise in bearing temperature and resulting in abrupt catastrophic failure of the thrust bearing. This failure also caused damage to the mechanical seal, pumping ring and impeller.
In January 2007, Valero-Wilmington sent one of these pumps to Evans Hydro with a request to investigate the failures. To determine the root cause of the problem, the engineers started by reviewing the original sump design. The original oil sump design had a magnetic seal at the bottom (see Figure 1, Item 117). The second-generation design had eliminated the magnetic seal and added the riser pipe-the significance of which will be illustrated in the discovery of the problem.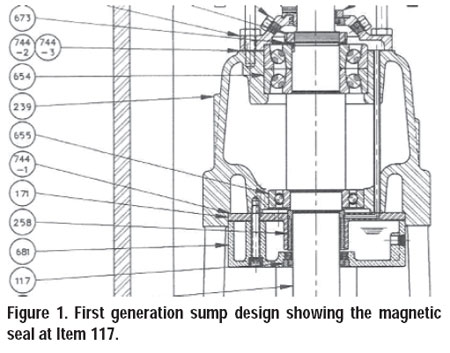 The obvious problem was that oil was leaking from the bottom of the sump. After disassembly and inspection, the cause of the problem was not immediately apparent. The oil level was set correctly, there was no problem with the pumping ring and no scoring or wear was found on the stationary parts. The big question was how the oil was leaking from the sump, causing lack of lubrication and the overheating and failure of the bearings.