Publisher:
Pumps & Systems
Date Published:
September, 2010
In this case study, routine maintenance of a condensate pump at a nuclear power plant becomes an emergency situation.
When a nuclear power plant pulled its vertical condensate pump for routine maintenance, an emergency situation was not expected. The plant pulled the pump and installed a replacement from storage, but it failed catastrophically after only two days in service.
Requiring a solution for the emergency need, the plant accepted a workscope from a service center that promised a refurbished pump within nine days. The plant shipped both pumps to the service center and sent a condensate system engineer to oversee the work and maintain an open line of communication between the organizations.
This case study highlights the root cause of pump failure for a nuclear power plant and the emergency response required to repair the pump.
Teamwork Critical to Quick Turnaround
One key factor to successfully handling this emergency pump failure was the close teamwork between the plant's management, an onsite plant engineer located at the repair facility and the personnel at the repair facility. A lesson learned for pump users in emergency situations is that close teamwork and having a customer engineer onsite is critical to facilitating a rapid response.
Root Cause of Failure
The pump failed as a result of having been previously incorrectly repaired, coupled with contributing installation issues, ultimately causing the upper shaft to break. Evidence of the root cause became apparent during the disassembly process. These photos illustrate what the pump service center found.
Ductile Fatigue Failure: The head shaft cracked at the snap ring groove just before the last stage impeller front hub ring turn.
Best practice is to maintain stringent alignment and concentricity between interfacing parts. This ensures correct concentricity and perpendicularity between shaft and bearings and rotor to casing. The service center discovered that the top bowl male fit had been previously repaired by pad welding (see Figure 1), which is an improper practice due to the presence of a sealing O-ring. When a pad weld is performed on a pump that uses the O-ring design, fits and tolerances no longer meet acceptance criteria. It appears that the previous repair provider coated the faces with silicone or another sealant in an attempt to re-establish the proper fits or control leakage (see Figure 2).
Figure 1. Pad welded male fit for the top bowl.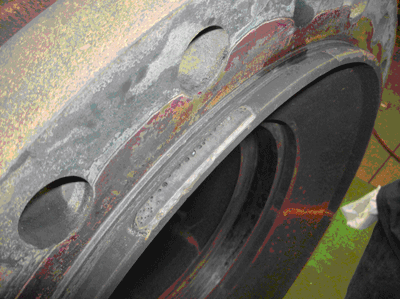 Figure 2. Silicone coating appears to have been used in a previous repair after the male fits were pad welded in an attempt to seal the proper fit between the top bowl and the discharge head.