Publisher:
Pumps & Systems
Date Published:
April, 2010
Typical vertical pump types include turbine, mixed and axial flow. The Hydraulic Institute classifies these pumps as type VS (Vertically Suspended). Unlike horizontal pumps, these pumps typically have the pumping element (impeller, diffuser, column pipe and pump shaft) submerged in the pumpage. Therefore, the metallurgy of all pump components must be compatible with the pumpage to achieve adequate life (MTBF).
The vertical pump is versatile, both in construction styles and hydraulic capabilities from 1,500 through 10,000 specific speed. It is used effectively in many industries such as nuclear power, fossil power, oil and gas, mining, municipal, general industrial and agricultural markets.
To properly consider repair upgrades, one should be familiar with the operational service of the pump in its specific application. Some vertical pump sensitivities include:
High Speed-Stator and rotor alignment, cavitation, rotor balance
High Specific Speed-Intake design, cavitation
Corrosive Service-Materials compatibility, protective coatings
Well Pumps-Lineshaft lubrication, start-up and shut-down coordination with valving, variable frequency drive operation, installation
It may be possible to more than double a standard manufactured vertical pump's life by upgrading the pump repair to a "precision remanufacture." The pump vibration will be reduced and can be verified upon start-up as proof of the upgrade. The repair and upgrade cost is usually a small item in the pump's life cycle cost.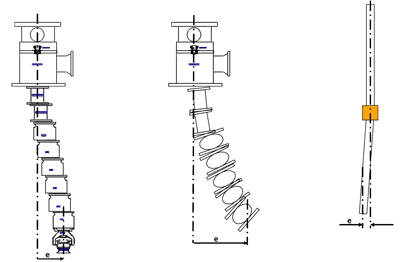 Figure 1. (l.) The resultant eccentricity between rotor and stator caused by loose fits between the bowls and columns. (center) The resultant eccentricity caused by a lack of parallelism between the mating faces. (r.) The resultant rotor eccentricities caused by loose fit by threaded couplings.