Publisher:
Maintenance Technology
Date Published:
September, 2007
The first installment of this series highlighted general guidelines regarding the selection of competent non-OEM pump repair facilities. This month, these guidelines are discussed in more detail.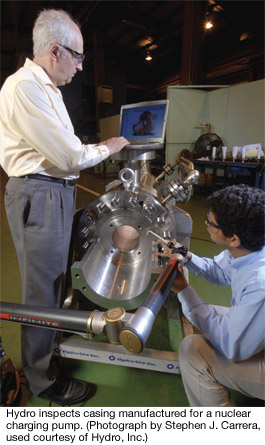 You get what you inspect. That said, a pump user must have a repair specification. It may or may not be identical to the specification used by the non-OEM competent pump repair shop (CPRS). Where the specification or checklist of the CPRS differs from the one of the user/purchaser, the issues need to be explored and the ramifications of any deviations understood. At that time, waivers are issued and details of the understanding are documented.
In any event, unless a process pump manufacturer gives specific and different values or measurements for a particular make, size or model, experience shows the guidelines in this article to be useful"and valid. Even an in-house pump shop would benefit from making it a habit to use and apply the following assembly dimension checklist. Some of the listed diametral clearance and/or interference tolerances will be stricter than what certain pump manufacturers allow (for reasons of internal cost savings, perhaps). But, then again, this simply illustrates the opportunities to improve on some OEM products.
Best-of-Class user shops often make copies, laminate them and either hand them to each of their shop technicians or post them near mechanic/technician workstations. CPRS facilities use similar approaches to disseminate the information in Sidebar 1, Best-of-Class Pump Specifications, to their staffs.
Beyond the actual specifications listed in Sidebar 1, there are other Best-of- Class type guidelines to consider when rebuilding a pump. A CPRS certainly considers them.